DHA Improves Immune Function
Objective
A placebo-controlled, double-blind, parallel study was conducted to determine the effects of supplementation with an EPA-rich or DHA-rich oil on a range of immune outcomes representing key functions of human neutrophils, monocytes, and lymphocytes in healthy humans.
Study population
42 healthy subjects
Length of study
4 weeks
Intervention
Supplementation with either placebo (olive oil), EPA (4.7 g/d), or DHA (4.9 g/d) for 4 wk.
Blood samples were taken before and after supplementation.
Results
Fatty acid composition of plasma phospholipids and neutrophils was dramatically altered by supplementation with EPA or DHA, and the effects of EPA differed notably from those of DHA.
DHA supplementation decreased T lymphocyte activation, when evaluated by expression of CD69, whereas EPA supplementation had no significant effect.
Conclusion
It was found that supplementation with DHA suppresses T lymphocyte activation, as assessed by expression of CD69. EPA alone does not, therefore, influence CD69 expression.
Source
Kew S, Mesa MD, Tricon S, et al. Effects of oils rich in eicosapentaenoic and docosahexaenoic acids on immune cell composition and function in healthy humans. Am J Clin Nutr. 2004 ;79(4):674-81.
DHA improves cardiovascular health
Objective
A double-blind, randomized, placebo-controlled parallel study was conducted by Kelley, et al. to assess the effects of DHA supplementation on the concentrations of apoproteins, large, medium and small VLDL, LDL, and HDL particles and the mean diameters of these particles in fasting and postprandial plasma.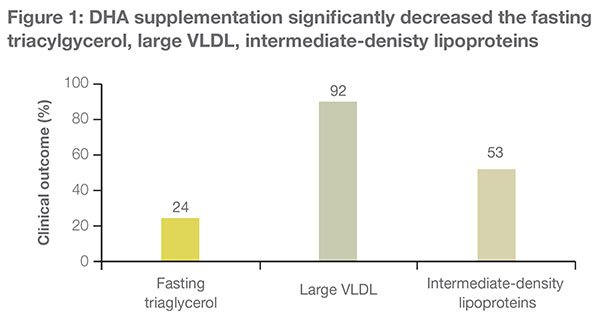 Study population
4 hypertriglyceridemic patients aged 39-66 years
Length of study
3 months
Intervention
Patients received no supplements for the first 8 days and then received either 7.5 g DHA oil/day (3 g DHA/day) obtained from microalgae Crypthecodinium cohinii or 7.5 g olive oil (placebo group) for the last 90 days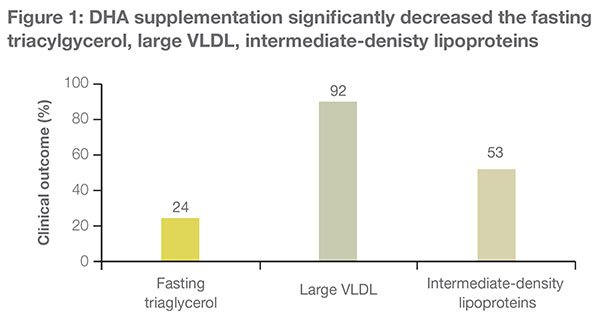 The results of this study demonstrated that Dietary ω-3 fatty acids have potentially protective role against cardiovascular diseases
Results
DHA supplementation for 45 days significantly (P<0.05) decreased concentrations of fasting triacylglycerol, large VLDL, and intermediate-density lipoproteins and the mean diameter of VLDL particles.
DHA supplementation for 45 days (mid intervention) resulted in a 92% decrease in the concentrations of large VLDL particles and a 133% increase in the concentrations of small VLDL particles.
DHA supplementation decreased the concentration of intermediate LDL particles by 53% and increased those of large LDL particles by 120%.
DHA supplementation for 45 days significantly reduced heart rate (8.3%) and systolic (5.6%) and diastolic (4.0%) blood pressures compared with baseline.
Conclusion
DHA supplementation reduced the concentrations of atherogenic lipids and lipoproteins and increased concentrations of cardio-protective lipoproteins
Source
Mori TA, Bao DQ, Burke V, et al. Docosahexaenoic acid but not eicosapentaenoic acid lowers ambulatory blood pressure and heart rate in humans. Hypertension. 1999;34(2):253-260
Omega-3 fatty acids may benefit mental health of the elderly
Objective
It is found that the depressive symptoms may augment the risk of progression from mild cognitive impairment (MCI) to dementia. Consumption of n-3 PUFA may relieve both depression and cognitive decline.
The aim of this study was to investigate the beneficial effects of omega-3 PUFAs on depressive symptoms, quality of life (QOL) and cognition in elderly people with MCI.
Study design
Double-blind, randomized controlled trial.
Number of subjects
50 people aged >65 years with MCI were enrolled into the study.
Duration of the study
6 months
Study intervention
| Groups | Intervention | Number of subjects (n=) |
| --- | --- | --- |
| Rich in DHA | 1.55g DHA + 0.40 g EPA/day | 18 |
| Rich in EPA | 1.67g EPA + 0.16g DHA/day | 17 |
| Linoleic Acid(LA) | 2.2 LA g/day | 15 |
DHA supplementation benefited mental health in older people with MCI
Results
The geriatric depression scores (GDS) were significantly improved in both DHA and EPA group in comparison to LA (p=0.01, and p=0.04).
 The verbal fluency (Initial letter frequency) improved in the DHA group (p=0.04).
The self reported physical health was positively associated with increased DHA levels.
Furthermore, the increased levels of DHA plus EPA were correlated with improved levels of GDS scores (r=0.398, p=0.02).
Conclusion
Omega-3 PUFAs supplement significantly reduced the depressive symptoms and altered the risk of progression to dementia.
Source
Sinn N, Milte CM, Street SJ, et al. Effects of n-3 fatty acids, EPA vs. DHA, on depressive symptoms, quality of life, memory and executive function in older adults with mild cognitive impairment: a 6-month randomized controlled trial.Br J Nutr. 2012;107(11):1682=169
DHA Improves Cognitive Functions in Age-Related Cognitive Decline Patients
Objective
Many studies have demonstrated that DHA plays an important role in brain development. Decreased level of plasma DHA is associated with cognitive decline in healthy elderly people and in patients with Alzheimer's disease.
A randomized, double-blind, placebo-controlled, clinical study was conducted to assess the potential benefits of DHA supplementation on improving cognitive functions in individuals with age-related cognitive decline (ARCD) using the Cambridge Neuropsychological Test Automated Battery, CANTAB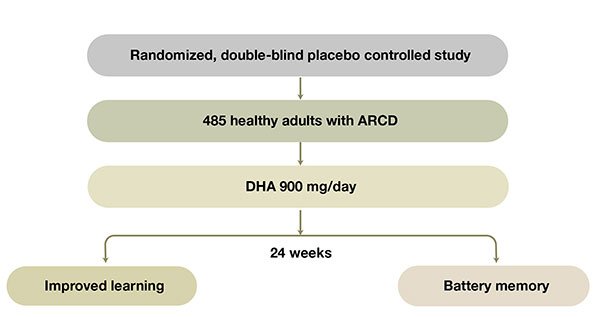 Study population
A total of 485 male or female subjects aged ≥55 years with a subjective memory complaint and with Mini-Mental State Examination >26 and a Logical Memory (Wechsler Memory Scale III) baseline score ≥1
standard deviation below younger adults were enrolled.
Intervention
900 mg/d DHA, provided as (3) soft-gelatin capsules, each containing 300 mg DHA from algal triglyceride oil.
Results
Intention-to-treat analysis demonstrated significantly fewer PAL 6 pattern errors with DHA vs placebo at 24 weeks (difference score, -1.63 ± 0.76 [-3.1, -0.14, 95% CI], P=0.03).
Immediate and delayed Verbal Recognition Memory scores were improved on receiving DHA supplementation.
Patients receiving DHA experienced increased plasma DHA levels, correlated with improved PAL scores (P<.02).
DHA was well tolerated with no reported treatment-related serious adverse events.
Conclusion
24 week of supplementation with 900 mg/d DHA resulted in improved learning and memory function in age-related cognitive decline (ARCD) patients
DHA is a beneficial supplement that supports cognitive health with aging.
Source
Yurko-Mauro K, McCarthy D, Rom D, et al. Beneficial effects of docosahexaenoic acid on cognition in age-related cognitive decline. Alzheimers Dement. 2010s; 6(6):456-64
DHA Significantly Decreases the Risk of AMD
Objective
This study was conducted to examine whether intake ofomega-3 fatty acid has any affect on the incidence of age-related maculardegeneration (AMD) in women.
Study population
38,022 womencompleted the food-frequency questionnaire and were not having AMD.
Outcome measure: Incident AMD responsible for areduction in best corrected visual acuity to 20/30 or worse based onself-report confirmed by medical record review.
Duration of the study
10 years
Results
Based on the study outcomes, the following observations were made:
 Infant but not maternal red blood cell (RBC) phospholipid DHA increased significantly in the high DHA group.
 High-DHA group had a significant increase in duration of gestation of 6.0 ± 2.3 days compared with the ordinary DHA group (276.5 days vs. 270.5 days, p=0.009).
 Infants in the DHA supplemented group were significantly longer at delivery (p=0.048) and had a trend toward larger head circumference (p=0.081).
Conclusion
Duration of gestation increased significantly when docosahexaenoic acid intake was increased during the last trimester of pregnancy.
The increase in gestation was similar to that of previously reported interventions with much larger amounts of n-3 long chain polyunsaturated fatty acids
Source
Smuts CM, Huang M, Mundy D et al. A randomized trial of docosahexaenoic acid supplementation during the third trimester of pregnancy. Obstet Gynecol. 2003;101(3):469-479..